The 2021 Subaru Love Promise Community Commitment Award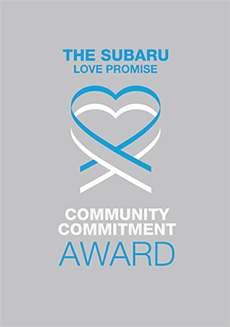 We've been nationally recognized for our dedication to our community and the Subaru Love Promise.
We're honored to receive the 2021 Subaru Love Promise Community Commitment Award. This award nationally recognizes Subaru retailers who are making the world a better place while demonstrating an outstanding commitment to supporting passions and causes in local communities. These efforts are focused in important areas such as the environment, community, health, education, and pets.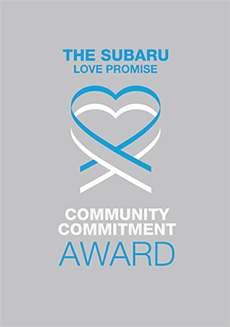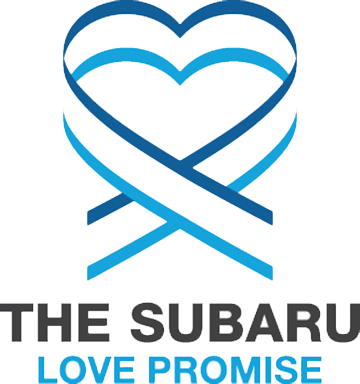 What is the Subaru Love Promise?
Subaru and our retailers believe in making the world a better place and the Subaru Love Promise is our vision of respecting all people. This is our commitment to show love and respect to our customers and to work to make a positive impact in the world.
How is Exeter Subaru dedicated locally to the Love Promise?
Our Love Promise can be seen in various partnerships with local charities and non-profits. We're grateful for the opportunity, not only to be a part of our community, but to serve it as well.
Cooperative Middle School
St Vincent de Paul Food Pantry (Exeter, NH), Dan Healy Memorial Fund, Concord Coalition to End Homelessness, Seacoast Area Firefighters' Toy Bank, Seacoast Family Promise
Love Promise Stories from Exeter Subaru
Subaru and Exeter Subaru believe in making a positive impact on the communities in which we live and work. We uphold that belief through our Love Promise Community Commitment. Every month, we select inspiring stories from customers and partners from around our area who strive to support our collective commitment and feature them here
Put a Sock in it! - Julie G
Warm, clean socks. Seems like such a basic thing, right? While for so many of us, it is, but for the homeless it can be completely intangible. Socks are in high demand for the homeless, and are the least donated item to shelters. Think about it. You have a pair of pants or a jacket in good condition, you donate it; however, once you are done with a pair of socks, they just end up in the garbage. While living on the street, many unsheltered people rarely take their shoes off. They walk often, and do not always have laundry facilities at close reach. The ability to have a fresh pair of socks to change in to is a fantastic feeling for them. Not only does it make them feel good mentally, but the socks also contribute greatly to their physical well-being. In cold enough conditions, frostbite can occur in just 30 minutes or less! Warm, well-fitting socks can prevent this for many people. Frost bite means poor circulation in the feet, and can be threatening. The socks provide a simple, but very important layer of protection. So, with the rate of homelessness high, and the temperatures quickly dropping, we decided to take action. During the month of February, we asked our employees and the community, to "Put a Sock in it!" Our mission: to collect 500 pairs of warm socks for the Concord Coalition to End Homelessness' Emergency Winter Shelter. The Emergency Winter Shelter is open 7 nights a week from December through March. Guests can arrive on the property at 6PM and must leave the property by 7AM each morning. The shelter serves adults in need, and gives them a place to sleep inside during dangerously cold winter months. Throughout the month, the donations came rolling in, and we had the most community involvement out of all of our love promise events so far. The final donations came in on March 2nd, and we concluded the event with a total of 920 pairs of socks! On March 8th, we packed up an Ascent, and headed to the shelter to drop them off. "Socks are the number one request, each day, by guests at the Concord Resource Center/Winter Shelter. Guests, who receive services through CCEH, shared with Resource Center Staff on the day of the donation that they are beyond "appreciative of the support and kindness in the local community. To many socks seem like a second thought when you are getting dressed in the morning, but for people experiencing homelessness if you have wet socks your overall health and well-being can be in jeopardy, especially during the winter months." Thank you, Exeter Subaru, from the bottom of our hearts for the generous donation of SOCKS!" -Julie Green, CCEH Clinical Director
---
Holiday Toy Drive - Erika C
For the second year in a row, we teamed up with the Stratham Police Department and the local firefighters to help fill the Seacoast Area Firefighters' Toy Bank. The Police Department reached out to us at the end of November, to see if we were interested in helping them again. We were, of course, happy to help. We prepped a car for the showroom, and reached out to the community for donations of unwrapped, new toys. Due to the circumstances surrounding the pandemic, we were uncertain as to how many donations we would get. However, our employees and customers came together, and filled the Crosstrek! The donations were brought to the toy bank on December 21st, where they could be distributed to families, in need of assistance, before Christmas day. Thank you to everyone that made a contribution, and we look forward to helping this great cause again next year.
---
"Pack-a-'back" - Erika C
During the month of November, Exeter Subaru hosted their sixth annual holiday food drive for the St. Vincent de Paul Food Pantry in Exeter, NH. This year, we set out on the mission to "Pack-a-'Back". During these unprecedented times, we realize that more people than ever are out of work, and children are home from school. Due to this, food pantries are in high demand, with items flying off of the shelves. While the food pantry is typically in need of holiday dinner items during this time of year, the current circumstances left them in need of personal hygiene items, snacks, and breakfast/lunch items for the children. So we put together a wish list, distributed it to our employees, and posted it on our social media outlets. Everyone came together, and helped us complete our goal of "packing-the-'back! We delivered the donations to St. Vincent de Paul on Friday, November 20th. "Thank you for the continued support from Exeter Subaru. We appreciate the food drive to help our Exeter neighbors in need. During the month of November 2020, we distributed 3,708 bags of food that equated to 37,080 pounds of food that makes 25,830 meals. This was distributed to 437 clients that reside in Exeter, Newfields, Brentwood, Kensington, East Kingston, and Stratham. Exeter Subaru's in kind contributions helped provide our clients food on their tables for their families. With gratitude, Molly Zirillo Executive Director, St. Vincent de Paul - Exeter."
---
In Memory of Dan Healy - Erika C
Like many 5k events this year, the 2020 Dan Healy Memorial 5k went virtual. While our favorite way to raise money and support this great cause is as a team, on Sunday, November 1, we took off individually to complete the race! This is the second year that employees and their family members have completed the run/walk. While it is typically held in Exeter, this year it was held Nationwide! Going virtual enabled this event to host as many participants as possible, while keeping everyone safe, and still raising money for their important mission: scholarships and veterans aid for seacoast residents.
---
Being a Hero in the Lives of Many Dogs - Melissa C
Through the month of October, we at Mary's Dogs Rescue and Adoption, had the privilege of partnering with Exeter Subaru for the Subaru Loves Pets event. For this event Subaru donated $100 for every dog adopted in October, up to 31 dogs. Mary's Dogs thankfully and happily found homes for 35 dogs in October. Working along side Erika, and other Exeter Subaru staff members, was such a great experience. Exeter Subaru went above and beyond by providing a small gift bag of goodies for our first 31 adoptions in October. Being a small non-profit rescue, we are always looking for ways to connect with our community and other businesses throughout New England. We do fundraising events throughout the year, which allows us to meet potential adopters and for our current Approved Adopters to socialize with us, as well as meet some of our pups. Erika, and the Exeter Subaru staff, attended some of our local events to help promote our partnership and spread our message. We worked closely with Exeter Subaru to showcase some of our adoptable pups each week with a Pet of the Week campaign. Each week an adoptable dog was posted on each of our social media outlets, as well as advertised within the Exeter Subaru showroom. Exeter Subaru graciously invited us to bring one of our adoptable puppies into the showroom to meet some Subaru clients and get to know more Exeter Subaru staff members, which our puppy Bonnie really enjoyed! The Subaru Loves Pets event was a great success for Mary's Dogs Rescue and Adoption. Being able to work with Erika, and the other Exeter Subaru staff members, was a great pleasure. The month of October was filled with great memories in a time where being connected to your local community is essential. We at Mary's Dogs appreciate all that Exeter Subaru did for us and are grateful to Subaru for the donation made on behalf of the 31+ dogs we found loving homes for. Mary's Dogs Rescue and Adoptions look forward to next year's Subaru Loves Pets event and are truly grateful for the relationship made throughout the month of October. Exeter Subaru has some of the best dog loving people we've had the pleasure of working with and we are excited to see what the future holds
---
Celebrate Pink Goes Virtual - Erika C
This year, we participated in the 12th Annual Celebrate Pink 5k. We started the event on September 11th, by "going pink" at the dealership. Our hope was to raise awareness for the event and help increase participation. Due to Covid-19, race registrations were down from previous years, and we wanted to help My Breast Cancer Support get as many participants as possible. Exeter Subaru team members then took off all across the Seacoast and completed their 5ks in eight different towns throughout the weekend. While things were a little different this year, we still enjoyed participating in the event, and helping raise money for this great organization.
---
Exeter Subaru has kids' backs! - Stephanie B
On Belay met the Exeter Subaru team almost a year ago when we were selected as the 2019 Share the Love local charity. From the very beginning, it was clear that as a team they are deeply committed to the community that they live and work in. Throughout the year they supported On Belay in ways that weren't required or expected of them; inviting us to events, volunteering and attending On Belay events, and by amplifying the message of On Belay. When the Share the Love event rolled around, the team championed On Belay. Because of Exeter Subaru's commitment to our local community, kids whose lives have been impacted when someone they love is diagnosed with cancer have a community of friends who understand. A community that celebrates life and let's them know that even when a parent or sibling has cancer, it is ok for them to just be a kid. We want them to know that even when life is hard, it still holds great joy for them. The Exeter Subaru community has been there for these kids. We couldn't be more honored to be associated with this caring group of people. We are deeply grateful!
---
5th Annual Fill-A-Forester - Amy G
During the month of November, we held our 5th annual Fill-A-Forester food drive. Each year, we hold this event for the St. Vincent de Paul Food Pantry in Exeter, NH. We have been fortunate to fill a car every year, and this year was no exception. All of the donations were taken to the food pantry on November 26th, and families were able to come in and get them for Thanksgiving. We are so grateful to everyone that participated and so were the staff at St. Vincent de Paul.
---
Cars and Cupcakes - Ann I
On November 5th, we hosted our first annual Cars and Cupcakes event at the dealership. The event was designed for women, by the women of Exeter Subaru. We had five presenters from each department that discussed their responsibilities as well as important information for customers when purchasing/servicing their vehicles. This event was put together to help our customers feel more comfortable when entering a dealership, as well as to fundraise for this year's share the love hometown charity, On Belay. We asked their Executive Director, Stephanie Beck, to come in and present as well. Guests were encouraged to purchase raffle tickets for some great prizes, and all of the money collected was donated to On Belay. Our hope for this event was to help our customers and to further spread the mission of On Belay, and we were successful!
---
Running in Memory of Dan Healy - Erika C
On Sunday, November 3rd, we participated in the 5th annual Dan Healy Memorial 5k in Exeter, NH. Dan Healy was a Senior Chief Petty Officer in the US Navy Seals, who was born in Exeter, NH. He was killed in action in Afghanistan in June of 2005 during Operation Red Wings. SCPO Healy was lost when his helicopter crashed on a rescue mission going to the aid of four SEALS. The Dan Healy Foundation was started in an effort to uphold the honor and dedication exemplified by SCPO Healy in his heroic efforts, by being of service to the Seacoast, NH community. It provides: 1) Scholarships to students entering the military or a trade school, 2) assistance to veterans in the area, and 3) grants to deserving single parents. For several years now, the foundation has held the Dan Healy Memorial 5k, as a way to honor SPCO Healy, as well as other service men and women, and as a fundraiser. It was a beautiful day for the runners and walkers, and the turnout was their best yet with over 300 participants. We were excited to support the organization, and help spread the word about their mission. We hope to recruit even more team members for next year's event!
---
11th Annual Celebrate Pink 5k - Jen R
On Sunday, September 15th, we participated in the 11th annual Celebrate Pink 5k for My Breast Cancer Support out of Portsmouth, NH. My Breast Cancer Support is a non-profit organization that provides financial and emotional support to breast cancer patients throughout the Greater Seacoast area of New Hampshire and Southern Maine. We were excited to be a sponsor and vendor this year, as well as have a team enter again. It was a beautiful day, and the turnout was incredible with over 500 participants running and walking. Our team did a great job, raising over $2500 for the organization! We really enjoyed being a sponsor this year. It was nice to meet all of the race participants that came to our table. We had giveaways for everyone (as well as their dogs that came along), including the chance to win a full vehicle detail, which they were quite excited about. We are already looking forward to participating in next year's event, and raising even more money for this worthy cause!
---
"Academic Ascent" at Exeter Subaru - Jamie S
The Cooperative Middle School is grateful for their partnership with Exeter Subaru and the Subaru Loves Learning Event that was held during the month of August. Together, we were able to stuff a Subaru Ascent with items for students who may lack the necessary resources to be successful in school. This poster was displayed in Exeter Subaru's showroom and on their social media sites. Customers, Subaru employees, and community members saw the posters and stopped by to support this worthy cause. On September 5th, a group of CMS teachers met the Subaru employees, and happily received the donations. Once again, we are grateful for the kindness and generosity of Exeter Subaru and the members of our community! Featured in the picture from left to right are Ann Italia (Subaru), Erika Crean (Subaru), Principal Patty Wons, Jaime Sawler, Jamie Sirois, Samantha Bergeron, Kayland Pica (Subaru), and Sue Legere.
---
Paws Walk 2019 - Gabby L
On June 9th, we participated in the 27th annual NHSPCA Paws Walk at Stratham Hill Park. The Paws Walk is a critical fundraiser that brings the community together to walk and raise funds for the shelter. These funds enable thousands of animals to have a second chance at a happy, healthy life. This year, we were excited to be a sponsor for the event, and we also had a vendor booth. The booth enabled us to participate in the event. We had a great spot this year, with views of the dog demonstrations and dog pools. We gave out treats and toys to all of the dogs that came to visit us. We met a lot of new people from the community, and saw many familiar faces from last year. It was a great day, and we were happy to help raise money for such an excellent cause.
---
Hole In One Sponsorship A Victory - Pati F
There are businesses and then there are businesses that understand the value of community connections, giving, making their communities healthy and gaining exposure and increased traffic at the same time. On June 3, 2019, Exeter Subaru and over 200 locals joined Seacoast Family Promise on a beautiful spring afternoon to support local families with children experiencing homelessness. Once again Exeter Subaru sponsored a hole, offering a 2019 Subaru Ascent to the lucky person who got a hole in one. No one did, but this opportunity helped draw numerous players who would vie for the prize. Exeter Subaru always steps out of the box for local charities and supports the community in in numerous ways. We are so lucky to have them in our community and are thankful for all of the support that they have given to our program.
---
Connor's Climb Foundation - Sharing the Love - Candice P
Exeter Subaru joined hands with Connor's Climb Foundation as part of their 2018 Love Promise Community Commitment. Connor's Climb's mission is to provide suicide prevention education to New Hampshire youth and the community. This is done by raising awareness, reducing stigma, and equipping youth, educators, and communities with life-saving suicide prevention tools and resources. Our goal is to ensure that the youth of New Hampshire do not reach the point of crisis. Instead, they will know the warning signs of suicide, and they will know what to do when they see those signs in themselves or someone else. Since the launch of Connor's Climb in 2012, over 29,000 NH students have gone through suicide prevention training, over 60 schools have received evidence-based programming, and over 600 adults have been trained. This has all been at NO COST to the school or organization. Through Connor's Climb Foundation, Exeter Subaru's Share the Love provided $21,698 in funding that will be used to provide education and support to at least 20 schools in New Hampshire and will impact thousands of youth. Thank you Exeter Subaru for being an amazing positive force in our community!!
---
4th Annual Fill-A-Forester - Erika C
St. Vincent de Paul is a Food Pantry and Community Assistance Center, supported primarily through donations and staffed by over 165 volunteers! In the past year they distributed over 354,720 pounds of food to their Exeter area neighbors. Each year, Exeter Subaru holds a Fill-A-Forester food drive for St. Vincent de Paul. A Forester is parked in the showroom with the hatch open, and we collect as many donations as possible in the hopes that we will completely fill it. This was our 4th Annual Fill-A-Forester event, and our most successful one yet. With help from employees, customers, friends, and family, we collected enough food and household items to only leave enough space for two employees to drive the car to the food pantry. When we arrived, the volunteers were overwhelmed and very grateful for the donation. We are already looking forward to our next one, and hope to make it even better!
---
Donating Books to the Cooperative Middle School - Kayland P
From August to mid-September we took part in the Subaru Loves Learning event. This is an event where Subaru of America teams up with the American Association for the Advancement of Science (AAAS) in order to bring the world of science, engineering, and innovation to students. According to AAAS, only 36% of high school students are ready for college-level science, while over 80% of the fastest growing jobs in the U.S. are in science fields. Dealerships are matched with local schools and donate a diverse array of award-winning books to help bridge the gap and further promote K-12 science education. Books are selected from the winners and finalists of the AAAS/Subaru SB&F Prize for Excellence in Science Books, which celebrates outstanding science writing and illustration for children and young adults. Selected books are scientifically sound and foster an understanding and appreciation of science in readers of all ages. Throughout this event, we encouraged our customers, families, and friends to come in and visit our displays. There, they could fill out labels and write inspirational notes on bookmarks, to be placed in the donated books on their behalf. In addition to this, we also collected school supplies to be donated. Then, on September 26th, we loaded up a Subaru with all of the books and school supplies and headed off to the Cooperative Middle School in Stratham, NH. We were lucky enough to be able to head into an 8th-grade science class and surprise them. The students, teachers, and of course the librarian, were both thrilled and grateful to receive the donation. These books will be used in the 8th grade science curriculum, and be available in the library, for years to come.
---
My Breast Cancer Support and Celebrate Pink 5k - Jen K
Exeter Subaru shared the love at the 10th Annual Celebrate Pink 5K Walk & Run in downtown Portsmouth to support local breast cancer patients. After a month-long fundraiser, Exeter Subaru's generosity kept on flowing at the event--significantly exceeding their fundraising goal! With an enthusiastic group of runners and walkers, the Subaru team showed their fantastic community spirit on a hot and sunny day, joining over 500 participants to help raise funds for local patients. My Breast Cancer Support, a Portsmouth-based 501(c)3, provides financial and emotional support to local breast cancer patients as they undergo treatment. The funds raised for My Breast Cancer Support go to Care Packages for the newly diagnosed; Hope Chests filled with gas, grocery and night out gift cards at eight partnering cancer centers in the greater Seacoast of NH and Southern ME; Patient Assistance Grants to those in need. Assistance grants help cover household assistance, living expenses and wellness programs to ease the financial burden of breast cancer, helping patients focus on getting well. We cannot thank Exeter Subaru enough for sharing the love so that patients know that they are not alone!
---
Odiorne State Park Clean-Up - E C
On June 13, 2018, a group of Exeter Subaru employees joined United By Blue for their Odiorne State Park Beach Clean-Up as part of our Subaru Loves the Earth campaign. Blue Ocean Society for Marine Conservation, Eastern Mountain Sports, and Seacoast Science Center were also hosts of this great event.This event was part of United By Blue's "Bluemovement Road Trip". During this road trip, they are spending three months traveling across the country and cleaning up the beaches.Together, with about 30 other volunteers, we helped to clean the rocky coastline where the Piscataqua River meets the Atlantic Ocean. The group searched the shoreline for old fishing gear and plastics that become caught in the rocks as the tide goes in and out. After two hours of cleaning, we gathered 489.5 pounds of trash and recycling, preventing countless bottles, zip ties, and gear from flowing back into the Atlantic. We also found some weird trash including a paint brush, a pair of broken glasses, and a golf ball.After cleaning and learning about educational and restoration programs going on around the coastline, we enjoyed snacks by the water and had the opportunity to tour the Seacoast Science Center. We worked hard, and enjoyed our time helping this great cause.Thank you United By Blue for having us at your event!
---
Paws Walk - A G
On June 3, 2018, Exeter Subaru participated in the NHSPCA Paws Walk. The Paws Walk is an incredibly impactful fundraiser, and the NHSPCA's largest grassroots event of the year. The money raised at this event helps not only the dogs, but also all of the other animals that enter the shelter throughout the year. Participants walk a two mile trail through Stratham Hill Park in honor or memory of a cherished pet. Before and after the walk, participants can enjoy food, local vendors, activities, animal demonstrations, and more. We participated at this event in two ways. The first was setting up at team of walkers. The team consisted of employees, family members, and friends and all of them brought their dogs along! The second was becoming a vendor. We set up a table and handed out dog toys to the walkers. We also sold raffle tickets for two prizes: a large gift basket filled with dog treats and toys as well as a full-vehicle reconditioning at the dealership. All of the proceeds from the ticket sales were given to the NHSPCA after the event. We met many new people, and saw some familiar faces as well. We are already looking forward to next year's event!
---
Trotting for a Cause - Erika C
For our annual "5K for a Cause", we selected the Trick or Treat Trot in October of 2017. The Trick or Treat Trot is a fun, family-friendly 5K that is part of Exeter Hospital's United in Wellness race series. The run supports cancer treatment programs and services for patients at Exeter Hospital's Center for Cancer Care. Our employees, friends, and family joined over 500 other participants walking and running in honor or in memory of our neighbors and loved ones that have been affected by cancer. After the race, all attendees were invited to have snacks and watch the award ceremony. Awards were presented to the male and female Trot division winners, best costume winners, and top fundraisers. We were excited for one of our team members who finished in the top three for the female division! Thank you to Exeter Hospital for putting on this great event. We were happy to be a part of it.
---
Subaru Loves Pets 2017 - Erika B
October 2017 was Subaru Loves Pets month, and we partnered with the NHSPCA to make the month a success! We ran a Facebook campaign for the month which spread quickly. Thanks to everyone's participation, we were able to raise over $400. This money was donated to the NHSPCA to allocate towards the services/supplies that they were in need of the most. We also ran a Fill-A- Forester event for the month. Between our employees and our customers, we were able to fill the vehicle with items from the shelter's wish list. All of these items were delivered to the shelter on the first of November. Our final event was a Pet Adoption at the dealership. We cleared the sales floor and had the NHSPCA come in with dogs and kittens that were up for adoption. The event was a success with all but one dog going home to a new family! We really enjoyed working with the NHSPCA, and look forward to partnering with them again in the future.
---
Subaru - Helping Annie's Angels Share the Love - William D
Because of this support from Exeter Subaru, our Annie's Helping Hands Oncology program can help more patients receive FREE massage, meditation and reiki. Our Angel Fund will be able to help more families that meet our mission keep food on the table, lights on, gas in the car and heat in their homes. To All My Friends at Exeter Subaru,I understand that this BIG check came from many smaller ones. Through your willingness to Share the Love, Exeter Subaru shows us what is possible when we come together. Through your willingness to Share the Love, Exeter Subaru allows Annie's Angels mission to continue. Through your willingness to Share the Love, Exeter Subaru becomes a beacon of hope for families struggling financially through life threatening disease, illness and disability. Through your willingness to Share the Love, Exeter Subaru is a connection neighbor to neighbor, friend to friend and business to business. Through your willingness to Share the Love, Exeter Subaru is part of a caring fundraising network. Thank you for your continuing support!
---
Holiday Fill-A-Forester Food Drive - Erika B
For the last few years, the Exeter Area New Car Dealers Association (EANCDA) organizes a holiday food drive for two local food pantries. In December of 2016, Exeter Subaru decided to take this food drive to the next level. Instead of filling our typical cardboard boxes in the showroom, we created the "Holiday Fill-A-Forester Food Drive". Our mission was to fill an entire Forester, and deliver the goods on the selected day to our designated food pantry (St. Vincent de Paul of Exeter). Thanks to the generosity of all of our employees and customers, we were able to do just that. All of the EANCDA participants dropped off their donations mid-December, just in time for those that needed assistance with their holiday meals. It was great to see the community come together to help those that need it during a difficult time of year.
---
Exeter Area YMCA Selected for Share the Love - Darren C
Exeter Subaru selected the Exeter Area YMCA as their local charity for the 2016 Subaru Share the Love Event. The Exeter Area YMCA is a non-profit organization that provides opportunities for youth development, healthy living and social responsibility in the community, offering health and wellness programs for all. At the Y, they focus on nurturing the potential of every person from cradle to maturity, improving their community's health and well-being, and providing opportunities to give back and support neighbors. They do this by providing programming that strengthens mind, body and spirit, which enables youth, adults, families and communities to be more healthy, confident, connected and secure. Their impact is felt when an individual makes a healthy choice, when a mentor inspires a teen, and when a community comes together for the common good. The community came together for the Y this year. Exeter Subaru's customers, many of which live in the area, selected the Y for Subaru to make their $250 donation towards. Because of their selection, Exeter Subaru and our customers were able to raise $31,852 for the Y. This donation will help the Y to continue to provide all of the opportunities that they do.
---
Connor's Climb - Erika B
In 2016, Exeter Subaru started our 5k for a Cause event. Each year, we will be selecting a 5k and family walk in the community where the proceeds benefit a good cause. For 2016, we selected the Connor's Climb 5k. The Connor's Climb Foundation (CCF) began when Connor Ball passed away as a result of suicide in October of 2011. Connor's family and friends decided that no one else should experience such a profound and life-altering loss. The foundation's mission is "To provide suicide prevention education to New Hampshire youth and the community." They do this by raising awareness, reducing stigma, and equipping youth, educators, and communities with tools and resources focused on the vulnerable age group of 10-24 year olds. Since 2012, CCF has raised more than $70,000 to fund expanded education and awareness for suicide prevention in New Hampshire schools. CCF has hosted three trainings for more than 200 New Hampshire educators and community organization leaders. The organization has also distributed 30 "Signs of Suicide" education kits to New Hampshire schools,and over 6,000 students have gone through the program. The Connor's Climb Foundation is making a difference and is saving lives, and we wanted to be a small part of that. We created a team (Exeter Subaru's Rally Racers), raised money for donations, and then showed up to run/walk the day of the 5k. The weather was perfect, and there was a large turnout for this important event.
---
"Share the Love" with Twin Rivers Associates - Amy G
Each year, the Subaru Share the Love Event allows customers who purchase or lease a new car to select one out of five charitable organizations for Subaru to donate $250 towards. For the second year, Subaru has allowed dealerships to select a charitable organization in their community as the fifth selection. For the 2015 Subaru Share the Love Event, Exeter Subaru selected Twin Rivers Associates. Twin Rivers Associates is a day program for adults with disabilities, located in Stratham, NH. Participants in the program come from around the seacoast area and are able to take part in a wide range of activities which will improve their lives. These include: employment, volunteer, social, and artistic activities. Participants can select what they would like to do, as well as how many hours they wish to complete each week. Our customers liked the idea of keeping their donation local so that they could see the impact that their contribution made. Due to this, we were able to raise $20,841 through the "Share the Love" event for Twin Rivers Associates. The association's employees were very excited to receive the donation, and they will be using the money towards the purchase of a new truck for the program.
---
Stuff a Subaru Forester food drive - Molly Z
Exeter Subaru held - Stuff a Forester - food drive to benefit Society of St Vincent de Paul Exeter Community Center and Food Pantry. The items that were donated were critical donations that are needed to help feed low income families in the summer months. With the help of generous community members like Exeter Subaru, SVdP Exeter distributed over 357,600 pounds of food with a retail value of over $1,075,000 in 2016. We are so grateful for Exeter Subaru's partnership in helping neighbors in need to access affordable food in an atmosphere of dignity and respect. Your gift makes a real difference in the lives of hungry families, and helps them gather around their tables for wholesome meals. With gratitude, SVdP Exeter.
---
Exeter Subaru Shares the Love - Kevin J
On behalf of our many volunteers at the Saint Vincent de Paul Society Exeter, we would like to publicly thank everyone at Exeter Subaru for the role they played in this year's "Share the Love" charity promotion. Thanks to the efforts of general manager Darren Coute and his dedicated staff, Subaru recently presented our organization with a check for the amazing sum of $24,889! We are especially grateful to all of the new car buyers who designated Saint Vincent de Paul as their charity of choice to benefit from this promotion. It is heartwarming that so many customers requested that the $250 donation associated with their vehicle lease or purchase be provided to our organization which seeks to help the needy in all of the towns serviced by SAU 16. The demand for, and the scope of, our services has expanded greatly in recent years. In fact it is now costing us nearly $18,000 dollars a month to offer this array of services. So this generous gift comes at a most welcome time. So it is with sincere appreciation that we thank the Subaru Corporation, our friends at Exeter Subaru and the new car owners who participated in this venture. As a result of their caring, not only will our clients "Share the love", they will also share the food, medical- dental care and employment assistance that they so desperately need.
---