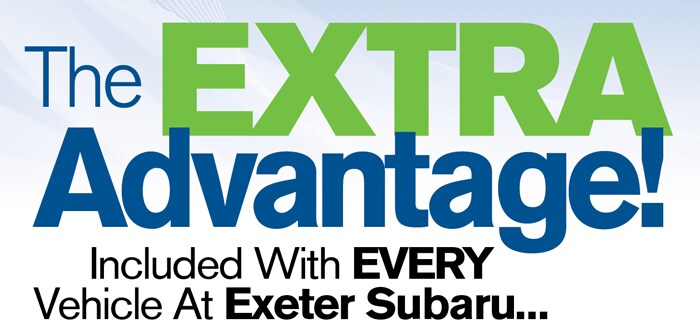 3 Day Exchange Policy: customer may exchange new or pre-owned vehicle within 3 calendar days of taking delivery;

vehicle
must be returned in exact same condition with no alterations or damage and with no more than 300 miles and must

be
exchanged for in stock vehicle only.

Lifetime Powertrain Warranty: provided at no extra charge; available on new and used vehicles* less than 8 model years

old with under 100K miles on the odometer.


Loaner Cars: customer must make an appointment with service department and reserve a loaner; vehicles are available

on a first come, first served basis.

Car Washes: complimentary with each service visit.

 Roadside Assistance: supplied by Subaru for the first 3 years/36,000 miles on new vehicles only.


The Service Department will check your Subaru to make sure components such as brakes, windshield wipers, lights

and much more are in proper working order and that you won't experience any unexpected problems.


For additional details or any questions please call
(603) 778-0300

or use the form

on the right side of this page.
Questions About the Exeter Subaru EX-tra Advantage Program? Please Feel Free To Ask Us Anything!
WE'RE ONLY HERE TO HELP...
NOT HARASS

We respect your privacy, value your trust and PROMISE to never share your contact information and will NEVER attempt to unnecessarily contact or harass you in any way.
*Excludes: Fiat, BMW, MINI, Mercedes-Benz, Smart Car, Volvo & VW Models.